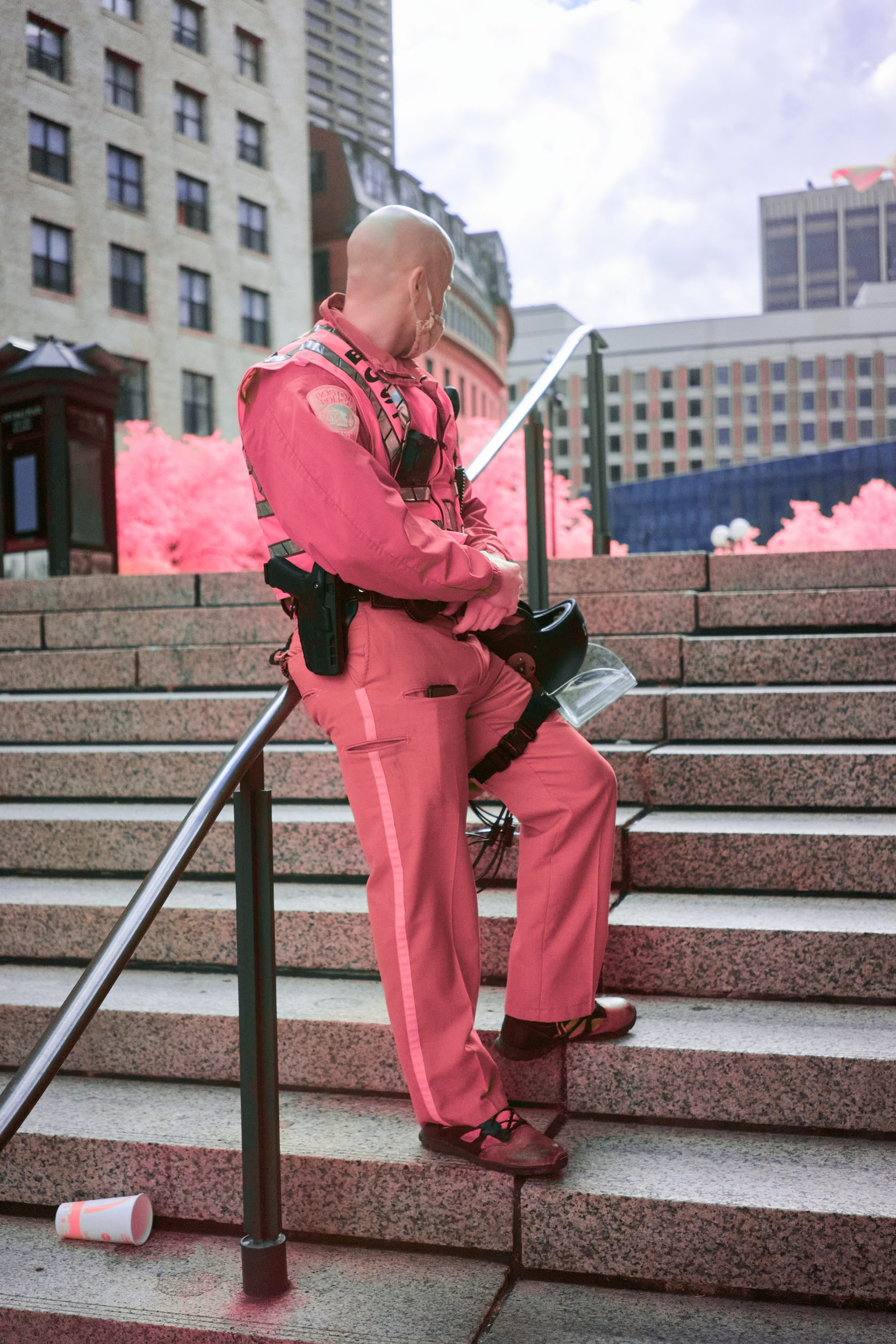 Show of Force
A show of force is a military operation intended to warn or intimidate. In this on-going project, I use infrared photo technology, originally developed for military reconnaissance in the jungle, to highlight the performance of military force in American cities. Through these photos, the camouflage of modern militant clothing and equipment burns brightly in a jarring shade of pink, alerting the viewer to an unnaturally armed presence in civilian urban environments.
To the human eye, camouflage blends in with trees and bushes. Infrared film, developed as a military technology, reacts to the presence of chlorophyll, marking true vegetation pink to identify military positions through their absence of unnatural hues. In response, modern military paint and uniforms have evolved to mimic vegetation in its spectral signature, thus eluding infrared detection in the jungle. Now, the military paraphernalia appears just as pink on infrared film as the foliage surrounding them.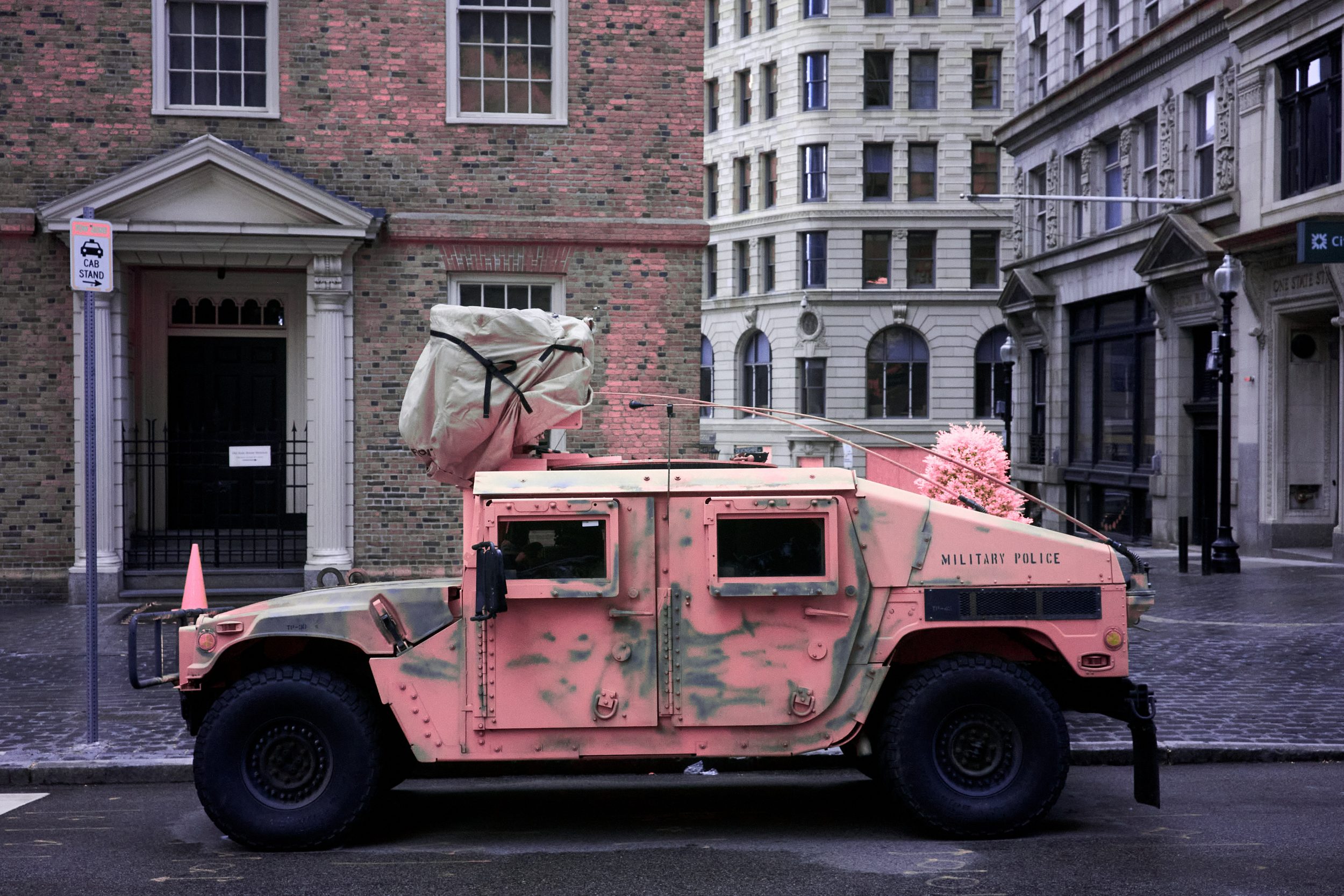 In Boston, as in many other American cities during the Spring and Summer of 2020, military police were summoned in response to Black Lives Matter protests. Deployed in an American downtown, infrared cameras are again able to highlight the presence of the military, now marked foreign by its ersatz vegetal signature in a civilian concrete environment. This aberrant pink, alongside the ambiguous gazes of the police and soldiers who are the subjects of these photos, destabilizes their presence, challenging viewers on both sides of a hardening cultural divide to consider these people from a different perspective.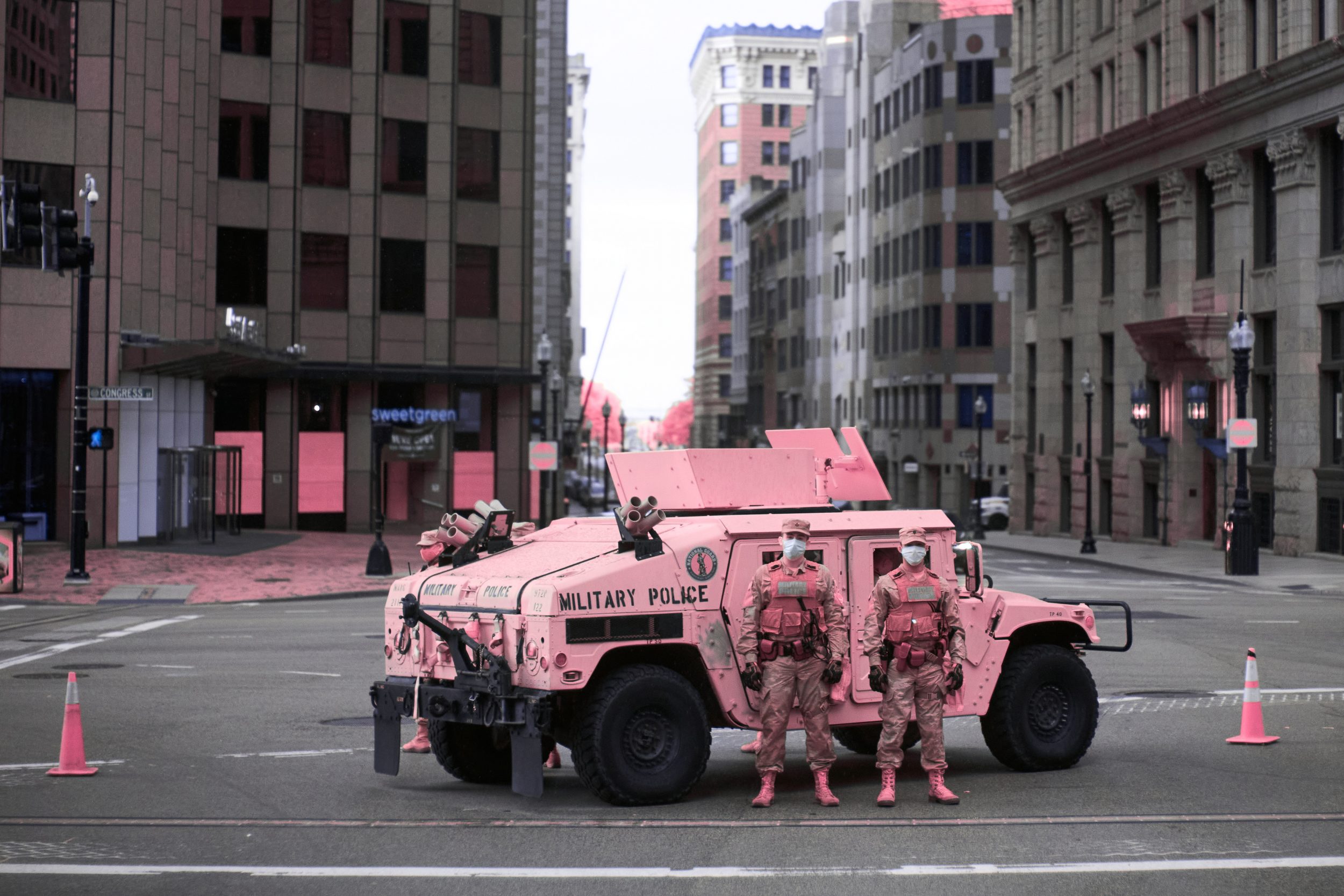 The project is a continuation of Richard Mosse's work in the DRC where the visual irony – brutal realism painted in candy-colored fuzz – was completely intentional. I bring the process back to the US as a warning, to highlight the brutal potential here.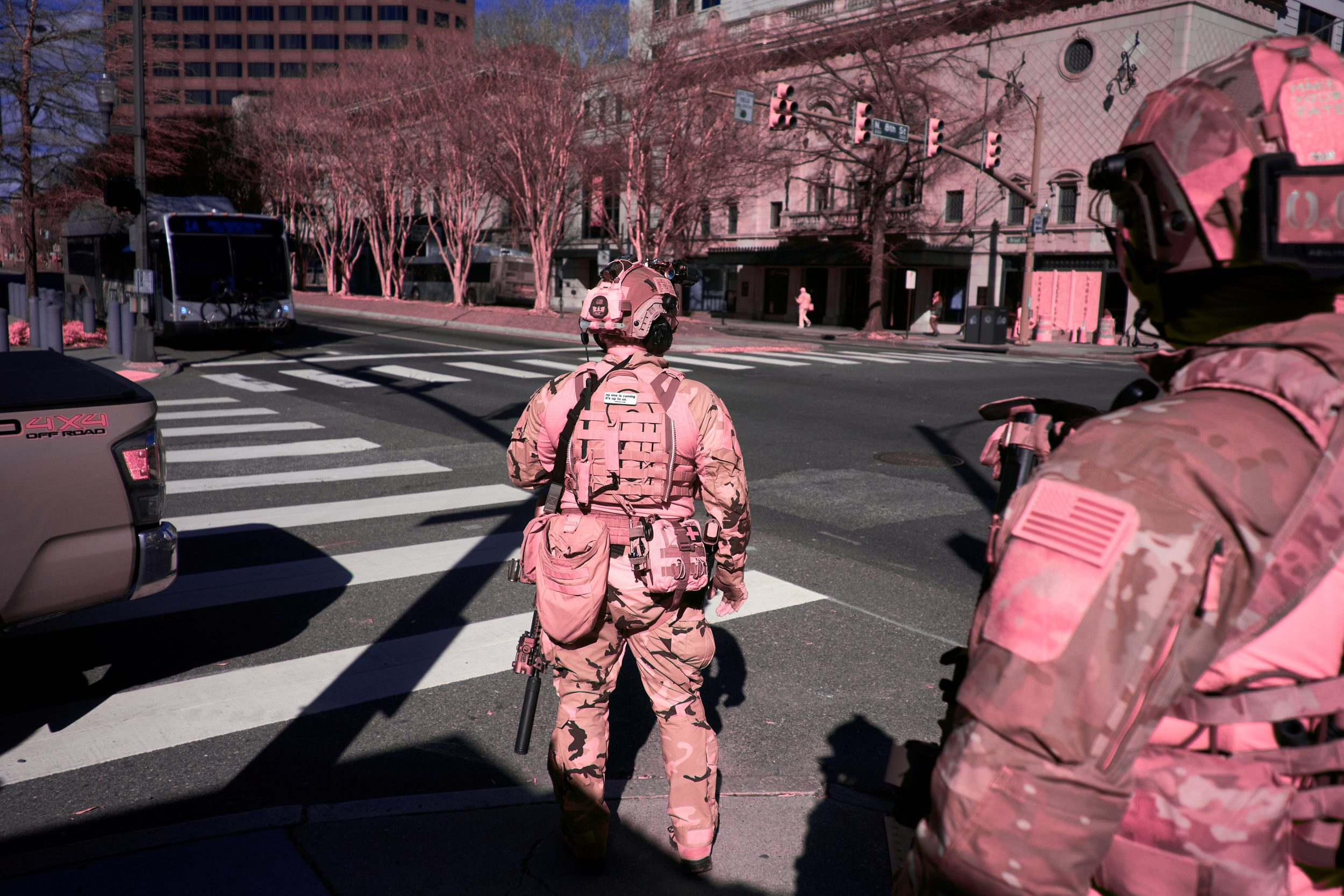 I am expanding the project to include the deployment of soldiers around the Capitol complex after January 6th and will continue photographing the activation of militias in public such as the Proud Boys, Boogaloo movement, and Black Panthers. It strikes me that the police and militias want firepower parity with the military, leading each to introduce more and bigger guns into civilian environments.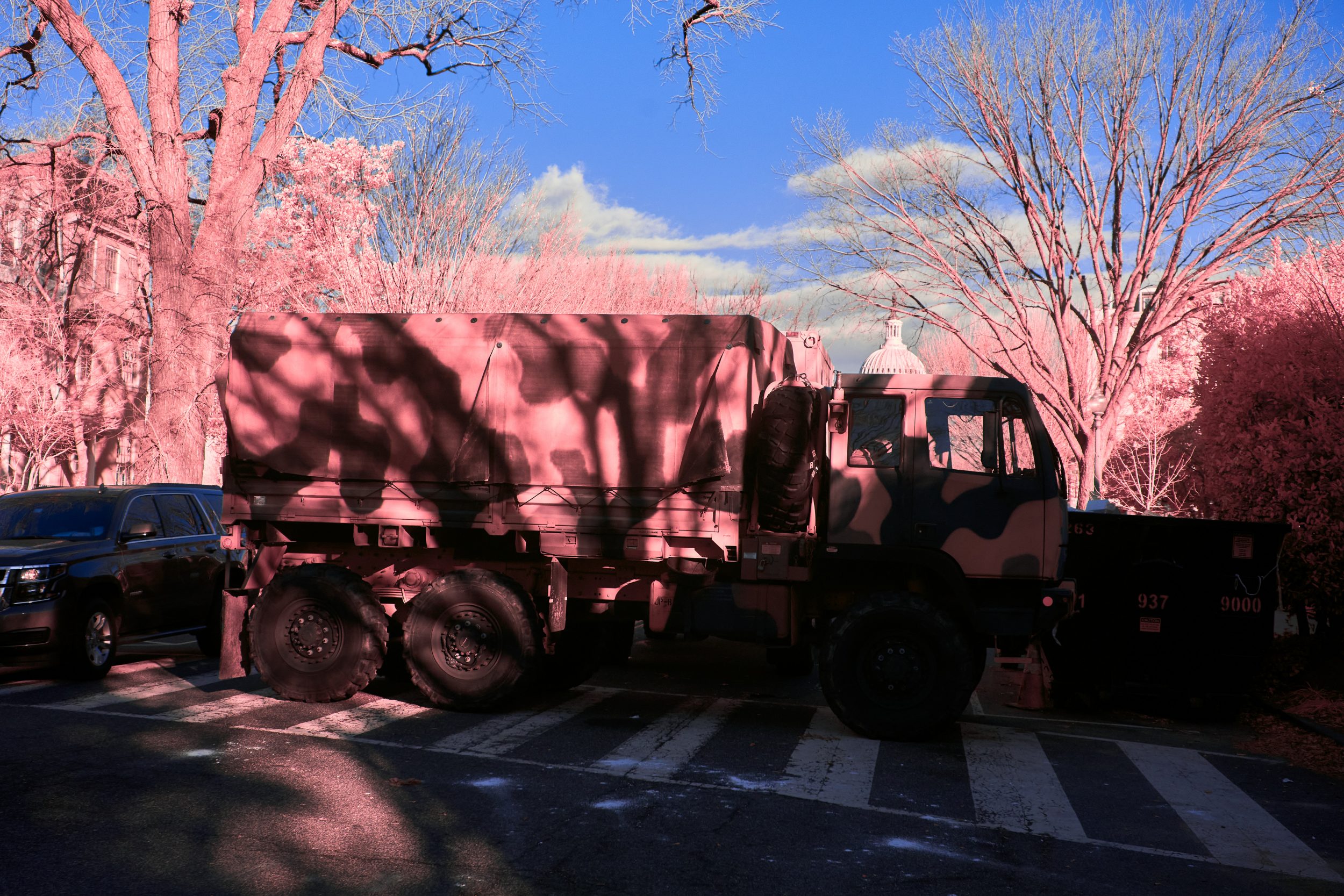 How I made infrared photos:
This project required disassembling my camera and removing the normal sensor filter which blocks infrared and ultraviolet light. Then I added a filter to the lens that blocks most visible and ultra-violet light.